Hello everyone! I hope you all are doing well and taking care!

Due to the recent pandemic lock down in my country and the dates getting extended of when the lock down would be lifted, I decided to watch Fifty shades trilogy to pass my time..
I know there are rather mixed reviews on the internet, IMBD has the rating of 4.1⭐/10⭐!! Can you believe that?! I know you can. Honestly, I didn't check the ratings before I started watching the movie.. completely went in without any knowledge of it and just knowing that it has mixed reviews.
Before I go ahead and start rambling or ranting or give my reviews and thoughts, I would like to put a *disclaimer* here: I haven't read the books, this is my first time watching the movies, I haven't read any reviews, if you like or love the book or movie series please don't hate me for not liking it back, everyone has different tastes and liking and I respect them, I do not hate or would make fun of people who like this movie or book! Also few words used below may not be kid friendly. So read with caution. And spoiler alert. ✌🏻

Alright~! Now that I have paved the way to it.. let me lay myself down on the table.. (pun intended) 😋

I sort of went in with some expectation and I shouldn't have done that. My expectations from the movie was a decent story with good erotic scenes. Given the hype was all around the erotic scenes. I was left disappointed with a rather dull, non engaging and utterly senseless story. The erotic scenes were good.. made up for it, but not entirely. I will come to that in a moment.

The story starts with our two main characters Anastasia Steele and Christian Grey. Anastasia is filling in for her roommate to interview Mr. Christian 'I have a hot sexy stalker stare' Grey. During the interview she manages to snag a pencil from him, ends up not using and only using it while biting the end of the pencil. Not to forget her famous lip biting while she is nervous or awkward which makes Mr. Grey irresistible towards her.
Reminder to all, she just graduated from college that makes her what… 20-22 years old? and Christian is 27 years old. Because this piece of information would be relevant in future.
In the due course of the movie she manages to fall in 'love' with Mr. 50 shades only to be told every single time that he doesn't do romantic love. He does contractual f.u.c.k.i.n.g. He is soo adamant on wanting her to be his toy and she is sooo adamant on wanting him to be her lover, that neither of them show any sort of chemistry.

The movie is devoid of chemistry between these two characters which leads up to a conclusion that its infatuation from Ana's end and some days fling from Christian's end. The movie is devoid of a proper story line that it makes it excruciatingly painful to watch the slow pace in which it runs.
Now you might have noticed I said 'toy' and by toy I mean he wants her to be his submissive. Something he has been doing for last 6 years with 15 women and prior to that his mother's friend had made him his submissive.. when he was a lil child around 15 years old. That's child abuse.. which he conveniently says liberated him. Huh…

Well, trying to wrap this notion which current scenarios might be difficult for me and maybe I don't wanna take this rant to that part. So lets stick to the movie. Coming back, Mr. Grey tries to woo her into becoming his submissive by giving her a helicopter ride and a jet? ride. Hell, I would be petrified rather than giddy.. seeing how in the start of the movie after the interview, he somehow stumbles upon her part time workplace and buys ropes, cable ties and cello tapes and she jokingly states he is well equipped with murder weapons.. mmmm…

God, girl is bind as a bat because he is handsome as f and think that's she can change him.. and interesting he sort of shows minuscule of change…. 🤔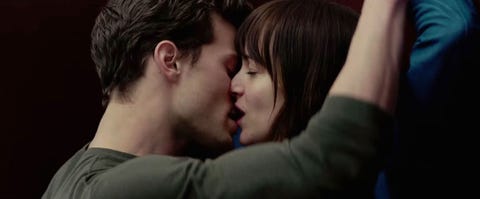 THE SCENES! What should I say about them! They were good.. won't deny.. but they could have been better given the chemistry if present. None the less, the scenes made me imagine and blush..

All in all, I understand why the ratings are low. Do I regret watching this movie..? Yes and no. Will I watch the sequels..? Yes.. got time to kill and not completing a series triggers me. 😆

So that was my review, thoughts, whatever… I would rate is 5⭐/10⭐. Will be back with the next one soon. Look out for it! 😋

Till then, please wash your hands, be safe, eat healthy, and stay indoors and take care. ❣️