Hey guys! I recently finished reading this lovely book called "You Bring The Distant Near" by Mitali Perkins.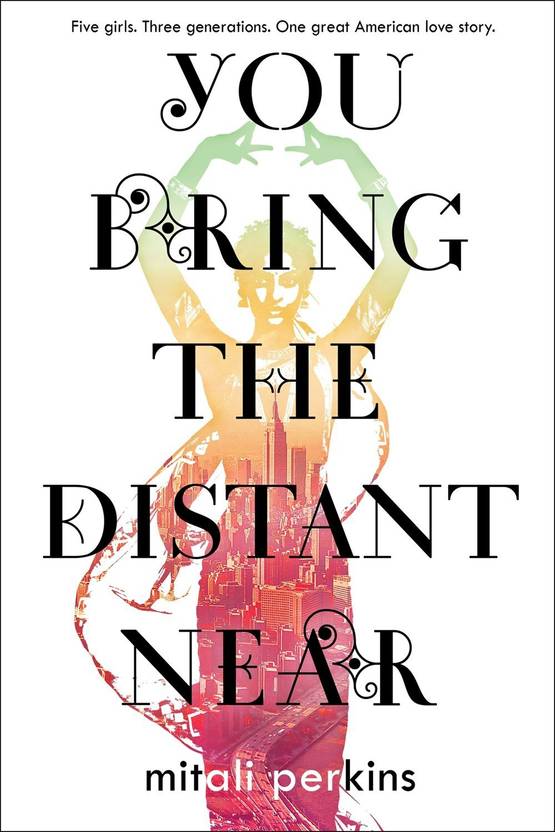 Title: You Bring The Distant Near
Author: Mitali Perkins
Genre: Fiction, Young adult fiction, Domestic Fiction, Realistic Fiction, Family
Length: 320 pages
Rating: 3.5⭐ / 5⭐
Get your copy here: Amazon.in Amazon.com Flipkart.in
Description:
Five girls. Three generations. One great American love story. You Bring the Distant Near explores sisterhood, first loves, friendship, and the inheritance of culture–for better or worse. Ranee, worried that her children are losing their Indian culture; Sonia, wrapped up in a forbidden biracial love affair; Tara, seeking the limelight to hide her true self; Shanti, desperately trying to make peace in the family; Anna, fighting to preserve her Bengali identity–award-winning author Mitali Perkins weaves together a sweeping story of five women at once intimately relatable and yet entirely new.
OtakuMeganeChan's Review:
The book is about 3 generations of Bengali woman, the upbringing of the daughters and spending their lives on the foreign land where they have to deal with the identity and personality crisis of their Indian heritage and culture and embracing the foreign influence.
Honestly, this book is out of my comfort circle as I rarely read books which are categorized under 'Realistic/Adult/Family Fiction'. I am more of a 'Thriller, Murder, Crime, Mystery, Fantasy' reader.
The book starts off with the Indian family settled in the UK now migrating to the US where they face many changes and challenges in their daily life. The book is from the point of view of 5 girls or ladies as the story progresses. So you can really relate to them at many points in the book. But later on, the story loses the charm that it had in the beginning. It becomes kinda repetitive and written in a hurry to just finish what was started (This is when the granddaughters are introduced in the latter part of the story). The ending of the book is rushed and abrupt which does not have a smooth transition in the last few chapters.
In my opinion, I would read this book only once and recommend that you guys have a read yourself as the portrayal of Indian immigrants with identity and personality crisis is well shown.
(Pic courtesy: Google and @that.fictionfandom.faerie on Instagram)